Another day, another tweak! A new tweak has just been released by developer pxcex called TapTap Statusbar. Let's find out more about this tweak.
Are you tired of Status bar occupying space on your display? If yes, then TapTap Statusbar is the tweak for you.
TapTap Statusbar – Wink Alternative for iOS 10
TapTap Statusbar Cydia tweak allows you to manually show and hide the status bar with a simple tap. This saves screen and makes the iOS interface more intuitive.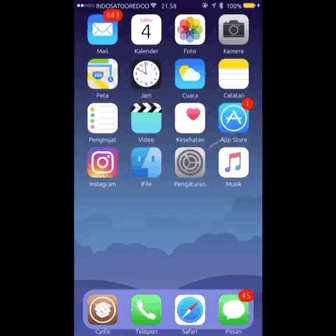 Once installed, simply tap the status bar once to hide it. To display it again, tap the top portion of your screen. This gesture works everywhere on iOS interface whether it's on the home screen, an app, or someplace else.
Here's a video demonstration of this nifty little tweak.
You can also choose different animations from the tweak's Settings section.
Download from BigBoss Repo
I know many users are waiting for their favorite tweak Wink. As Wink is not compatible with iOS 10, TapTap Statusbar is a great alternative. If you are into minimalist themes and setups, go for it. Recommended!
TapTap Statusbar is available for download on BigBoss Cydia repo/source for free. It is fully compatible with iOS 9 and 10.
Here are some other Cydia tweaks you may find interesting –